Description
---
Product Description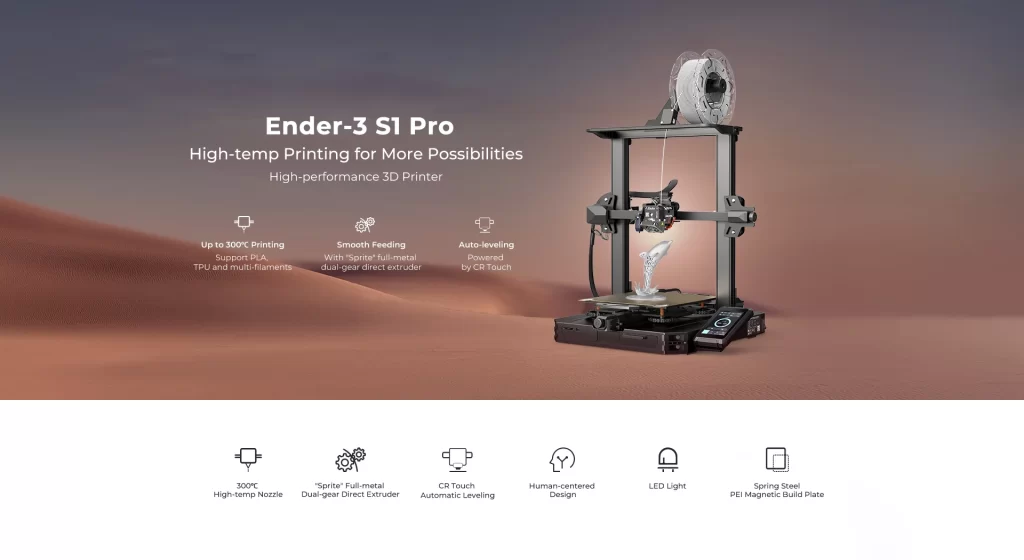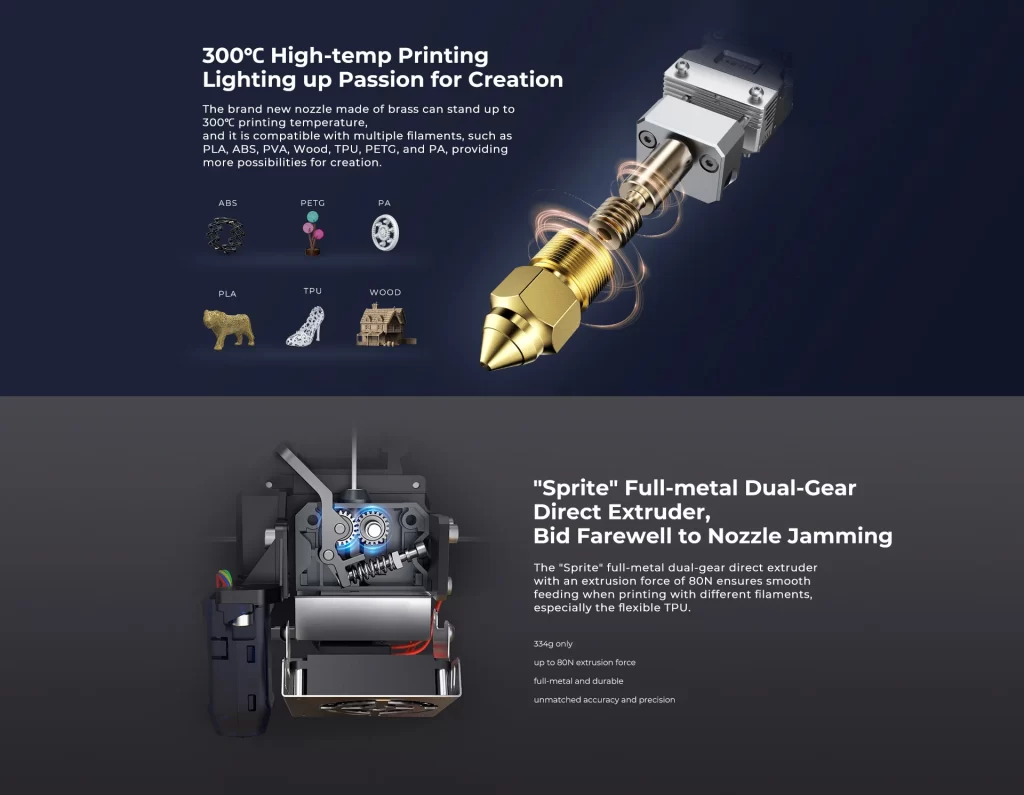 Up to 300℃ high-temp printing support multiple filaments

Sprite" full-metal dual-gear direct extruder 80N extrusion force for smooth feeding

CR-touch automatic leveling accurate and efficient

4.3-inch LCD, brand new UI, easy to use

96% pre-installed six-step assembly
300°C High-temp Nozzle

The brand new nozzle made of brass can stand up to 300°C printing temperature, and it is compatible with multiple filaments, such as PLA, ABS, PVA, Wood, TPU, PETG, and PA, providing more possibilities for creation.

4.3-Inch Touch Screen

The 4.3-inch touch screen, supporting 9 languages, offers efficient UI interaction and is easy to use. It will dim out automatically for energy-saving if there is no action for 3 minutes.

CR Touch Automatic Leveling

Equipped with CR Touch, the 16-point automatic leveling can complete quickly with compensation for points' printing height on the heat bed. Good efficiency saves much time.
"Sprite" Full-metal Dual-gear Direct Extruder

The "Sprite" full-metal dual-gear direct extruder with an extrusion force of 80N ensures smooth feeding when printing with different filaments, especially the flexible TPU.

Spring Steel PEI Magnetic Build Plate

Ender-3 S1 Pro has used the spring steel PEI magnetic build plate, which has good adhesion to the printed model and enables fast heating up of the heat bed. The build plates is not only durable but also flexible. Once the printing completes, users can remove the printed model effortlessly with just a slight bend

32-bit Silent Motherboard

Cozy environment with low-level noise exposure
LED Light

The equipped LED light enables comprehensive light fill, with which users can observe the printing details even in a dark environment.

Filament Sensor

The sensor can conduct automatic detection of the filament's running out so that users can add filaments in time.

Resume Printing

The printer can save the data during the outage and resume the print correctly from where it's left off, reducing the risk of filament wasting due to the printing failure.

Product Parameters:
Molding Technology: FDM; Nozzle Temperature: Up to 300℃

Build Volume: 220x220x270mm; Heat Bed Temperature: Up to 110℃

Leveling Mode: CR Touch Automatic Leveling; Display: 4.3-inch color touch screen

Motherboard: 32-bit silent motherboard; Resume Printing: Yes; Filament Sensor: Yes

Printing Speed: Maximum 150 mm/s; Printing Precision: ±0.1mm

Rated Voltage: 100-120V,220-240V,50/60 Hz; Rated Power: 350W/24V

Layer Height: 0.05-0.4mm; Filament Diameter: 1.75mm

Data Transmission Method: Type-C USB/SD card; Nozzle Quantity: 1; Nozzle Diameter: 0.4mm

3D File Format: .stl/.obj/.gcode(after slicing); Extrusion Force: 80N

Extruder: "Sprite"full-metal dual-gear direct extruder with 1:3.5 gearing

Slicing Software: Creality Slicer/Cura/Repetier-Host/Simplify3D

Build Surface: Spring steel PEI magnetic build plate

Supported Filament: PLA、ABS、WOOD、TPU、PETG、PA

Supported Language: Chinese, English, German, Spanish, French, Italian, Portuguese, Russian, and Turkish